One of six "Imperial Towers" built on the Great Lakes, the Nottawasga Lighthouse has been an iconic local landmark for over 150 years.  With its impressive masonry construction and intricate finishing details of European origin, the Nottawasaga Lighthouse has provided safe passage for both commercial ships and recreational boaters around the treacherous shoals and shallow waters that guard the entrance to Collingwood's harbour.
Having saved countless lives through its 159 year history, the life of the Nottawasaga Lighthouse is now endangered itself and needs saving. Lighthouses such as this have played an integral role in Canada's maritime history and in particular, Collingwood's Shipbuilding past. Although no longer a "lighted" navigational aid, the mere physical presence of this towering structure serves to assist recreational boaters in visually navigating their way safety back to the safe harbour in Collingwood both in good weather and in bad.
The Nottawasaga Lighthouse Preservation Society (NLPS) is a registered charity dedicated to the restoration and protection of the Nottawasaga Island Lighthouse. Preserving its history for present and future generations of Canadians to enjoy while ensuring its role as a navigational landmark continues.
We need your help to preserve this unique part of Canada's Great Lakes history. Join NLPS as a MEMBER, make a DONATION or VOLUNTEER to help in whatever capacity you feel comfortable with.
To learn more about the past history and current status of this unique piece of Canada's maritime heritage, please visit the HISTORY page of this website or CONTACT US for further information as to how you can help us in our Mission to save this unique and iconic structure.
NLPS Paddlethon Sun. Aug. 13, 2017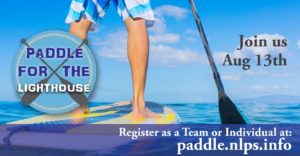 This fun, family-friendly paddlethon is in support of the NLPS and what better way to appreciate the lighthouse than from the Crystal Clear waters of Georgian Bay.
Drop Off 8:30-9:00am
Paddle 9:00-11:00am
There are two locations available to start your trip from:
**Princeton Shores
(Beginner-Novice skill level) (4KM)
**Collingwood Harbour Promenade
(Advanced-Expert skill level) (10KM)
Weather permitting otherwise alternate site will be Princeton Shores.
From your beginning location, you will paddle to the Nottawasaga Lighthouse and back!
You can paddle using SUPs, kayaks, canoes, or whatever else you can think of! *Please note that rafts will not be allowed due to safety concerns.
Register at paddle.nlps.info Participants are asked to collect pledges and all money raised will help support the restoration of the lighthouse.
Bring your vessel, bring your life jacket, and whatever you do, don't forget your paddle!
SHARE OUR FACEBOOK EVENT WITH ALL OF YOUR FRIENDS & SIGN UP!!


Our thanks go out to two very community minded people. Richard and Laura Wilson, owners of Agnora Glass, very generously donated $50,000.00 to the Nottawasaga Lighthouse Preservation Society. Our Board of Directors is grateful to be one of the many worthwhile groups supported by the Wilsons. Please visit the Agnora website and learn about this remarkable, state-of-the-art business which employs 75 local workers. Many awards have come their way since the founding in 2011. www.agnora.com
Andrew Peycha

Limited Edition Print by Andrew Peycha.
Only 200 signed and numbered prints!
John & Carol Sanders commissioned Andrew Peycha many years ago and he agreed to have his work copied. We are very grateful to him for supporting the restoration of the lighthouse.
July 27th & August 10th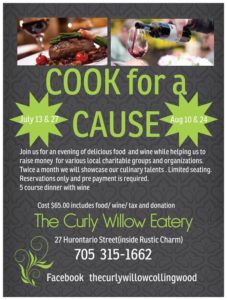 The Curly Willow, a new restaurant in town, has stepped up to help our Lighthouse. They serve fantastic lunches and in July and August are hosting dinners to benefit the NLPS and the hospital. 5 course gourmet dinner with wine for $45..00 plus $20.00 donation.($65) Book now! The NLPS will receive $20.00 from each dinner served on July 27th and August 10th. There is limited seating so reserve now. Thanks Mike and Linda for your generosity. Your store and cafe are a lovely part of our downtown.
Michael Story Hawkwood Films