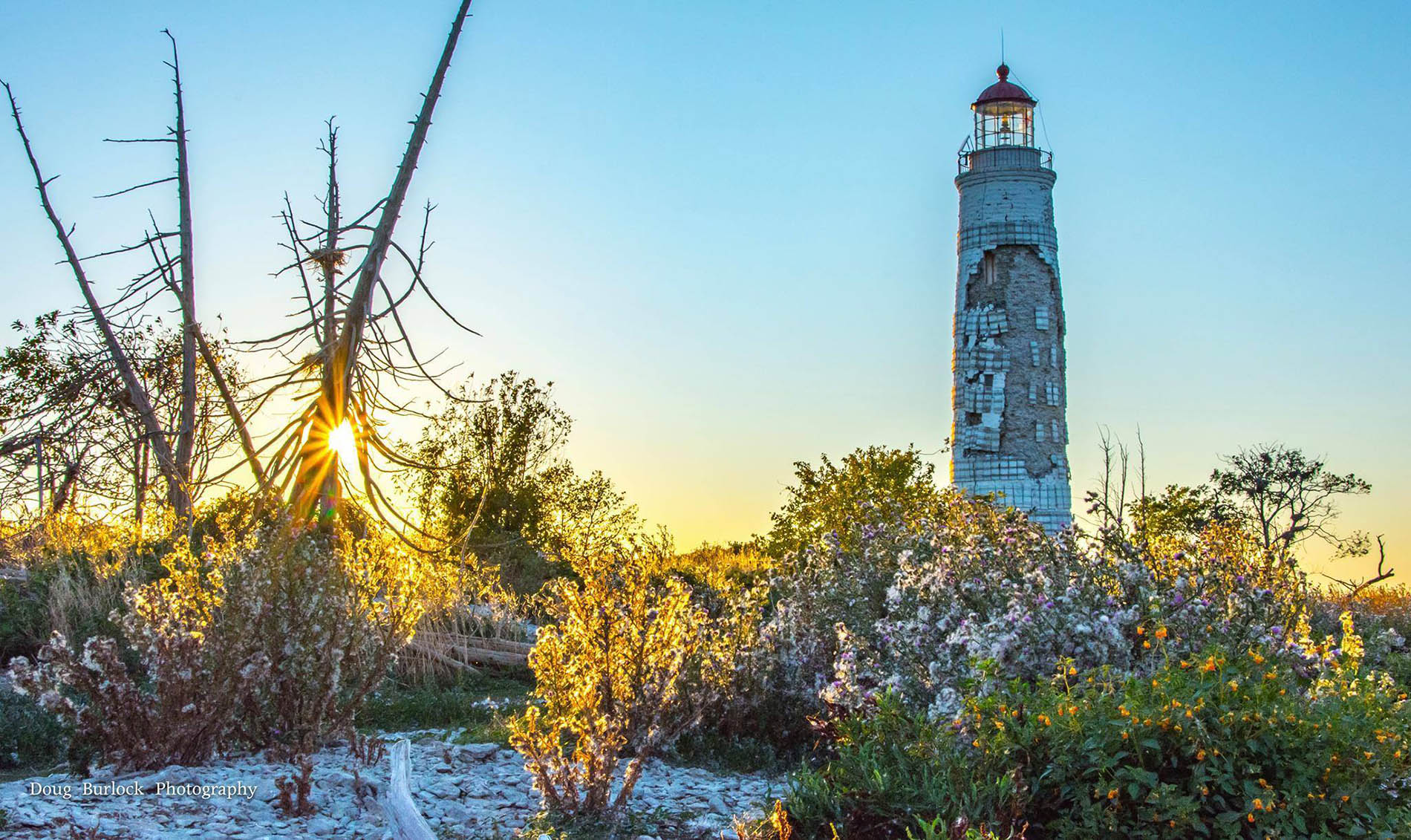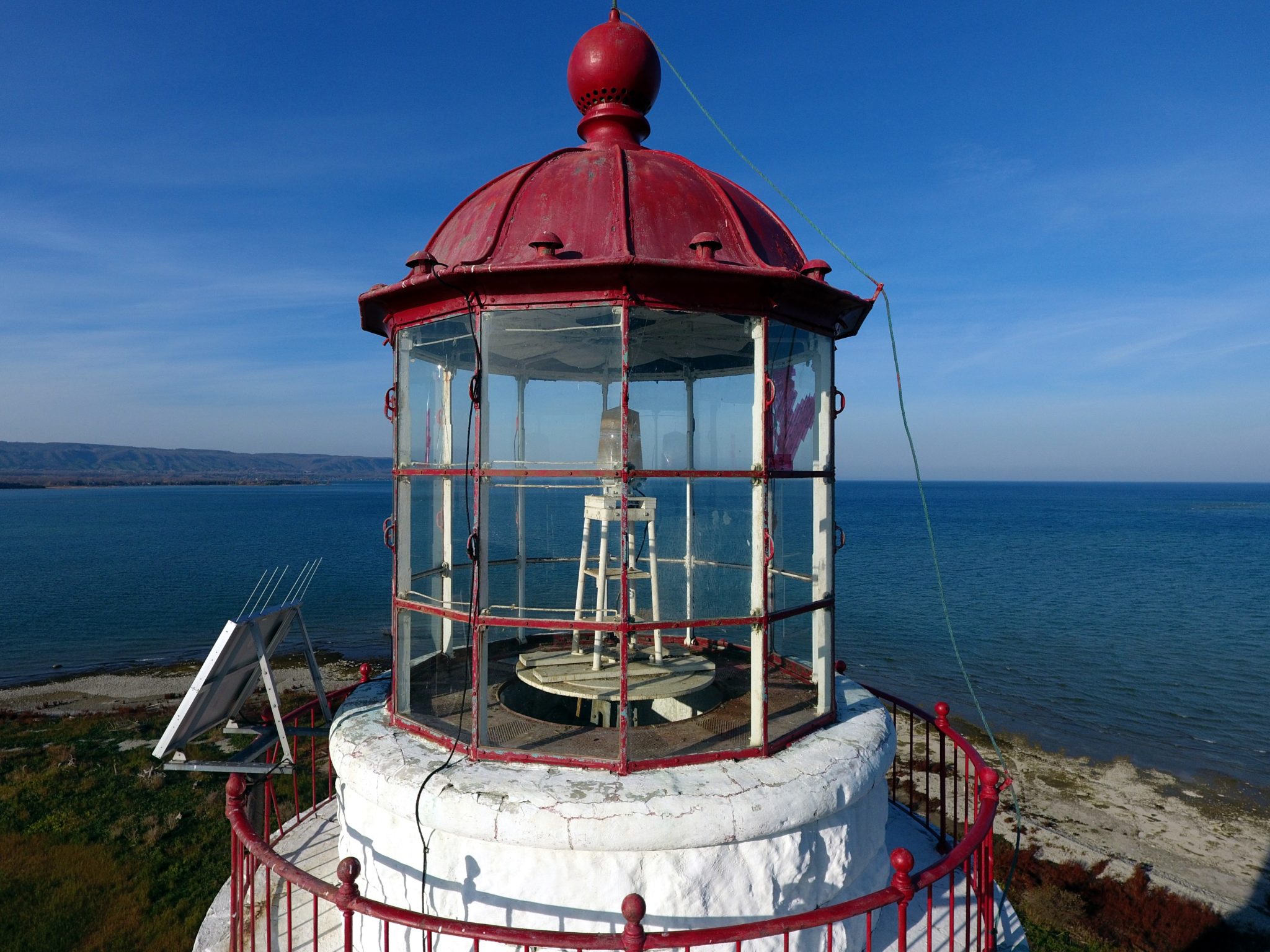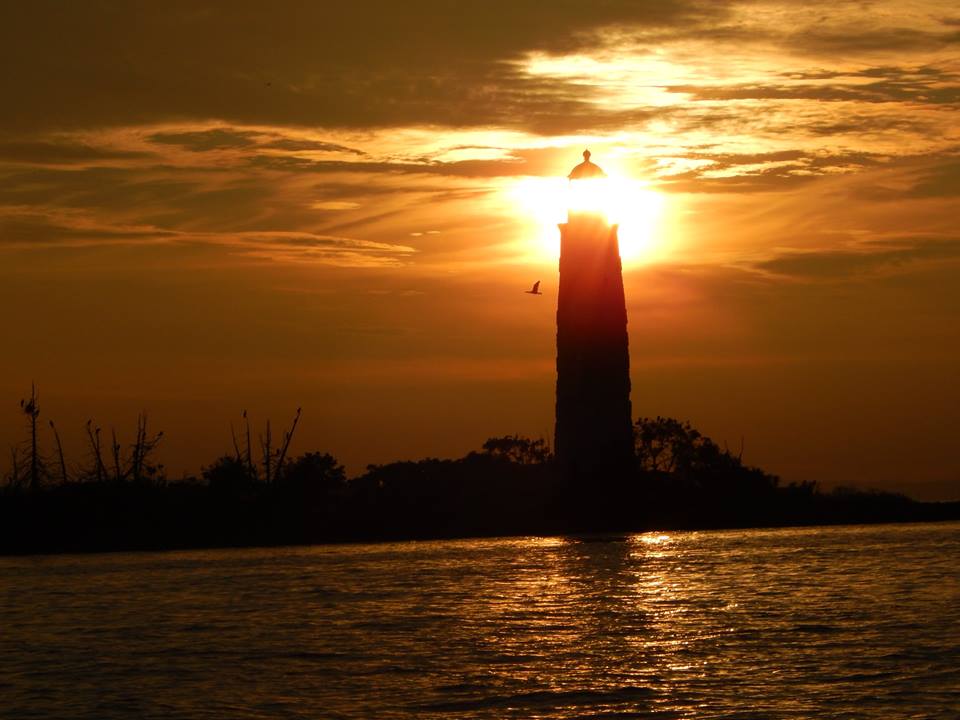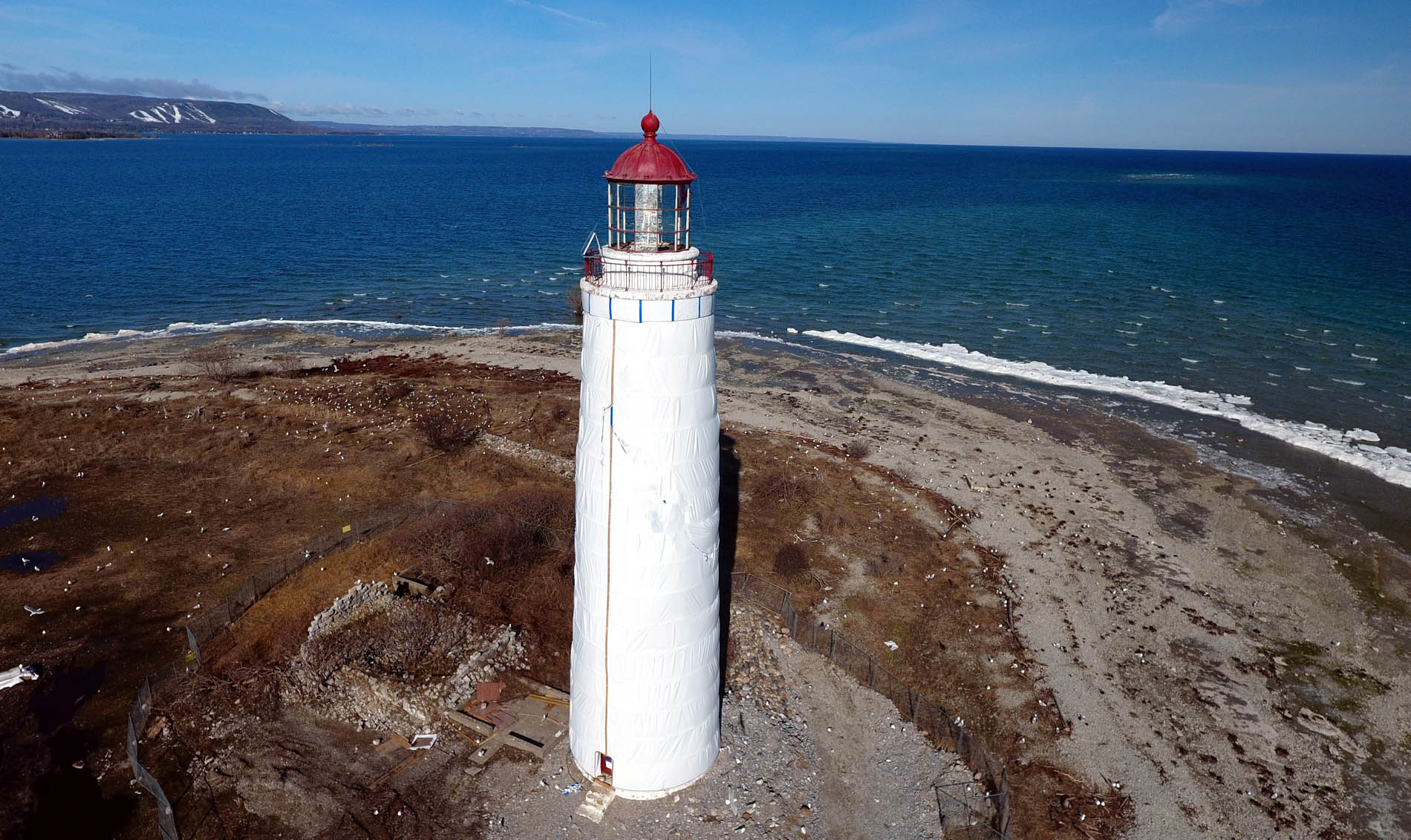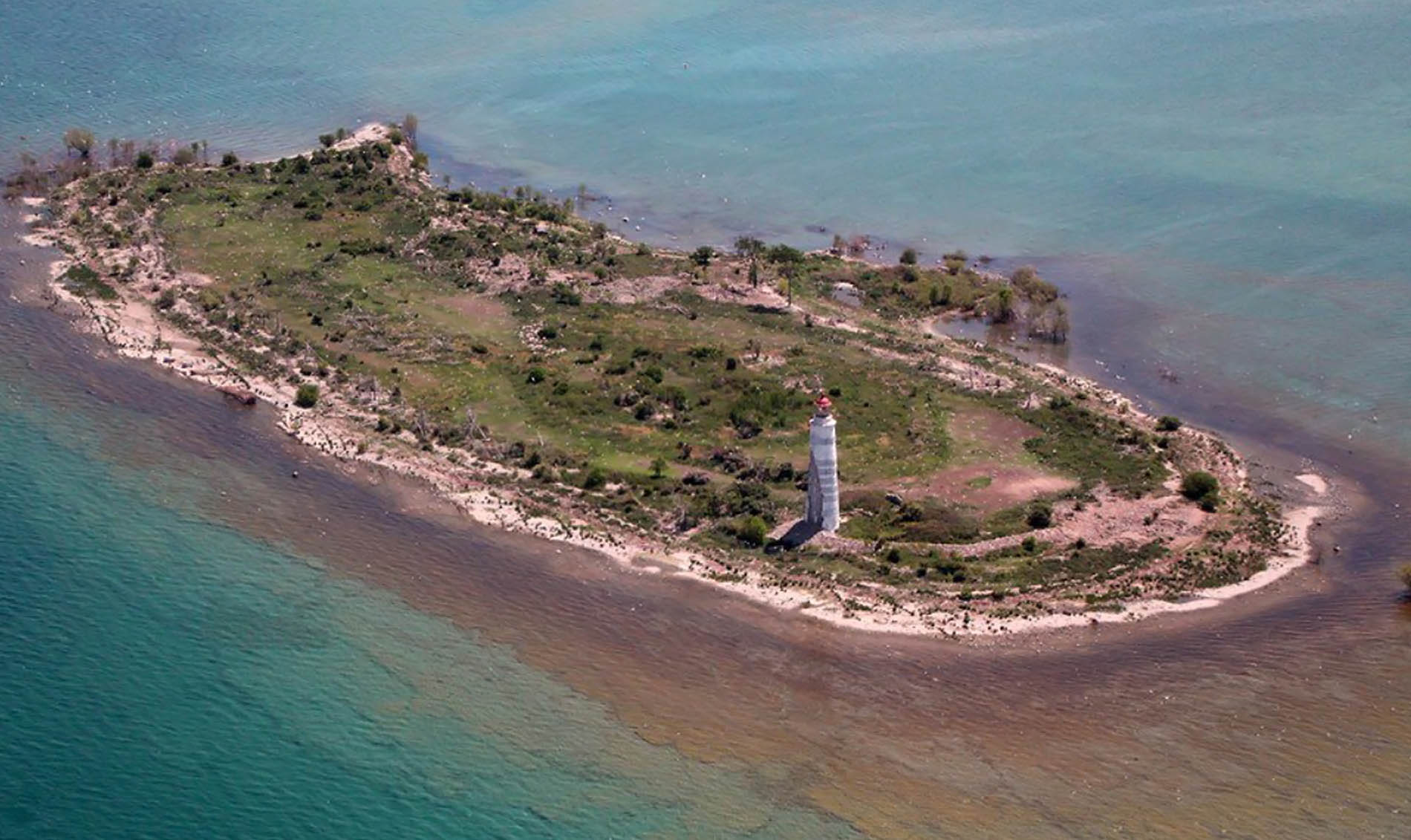 Our Lady
Our Lady of the lake
A beautiful iconic landmark to be preserved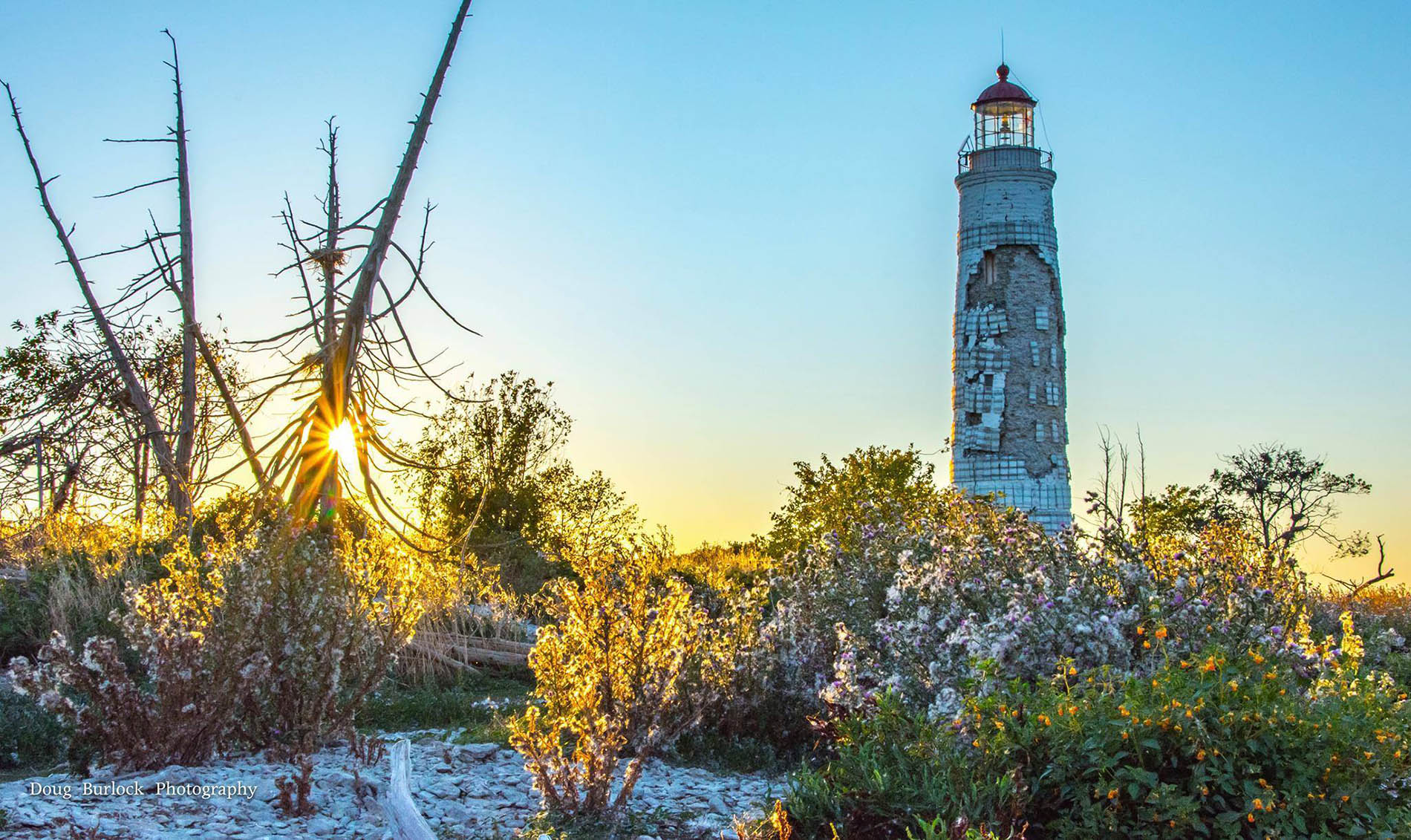 Lantern Room
Lantern Room
Mid 1800's French craftsmanship at it's best.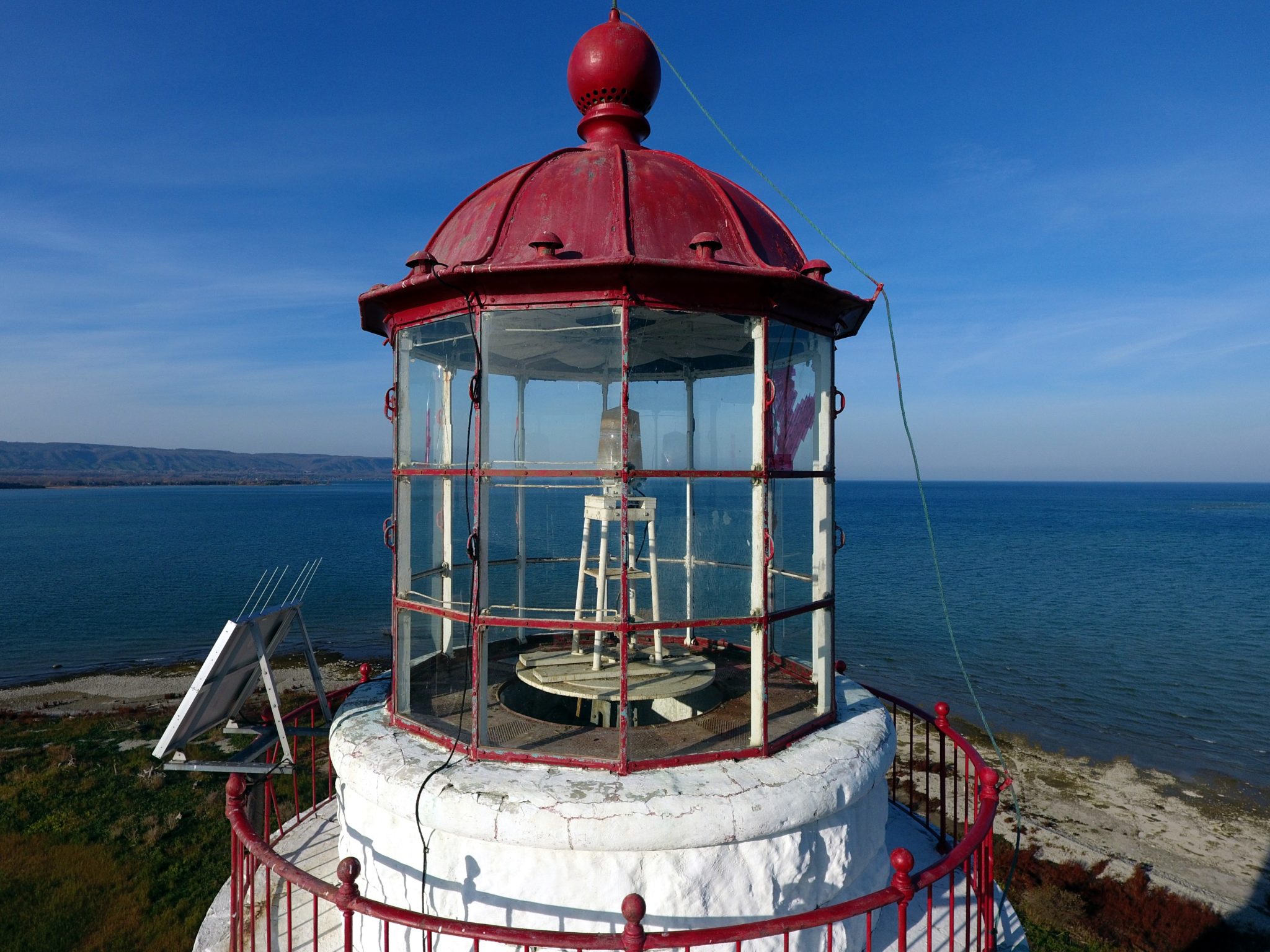 Beacon of Hope
A Beacon of Hope
Guiding the way for generations of ships
Photo courtesy of Paula Carasco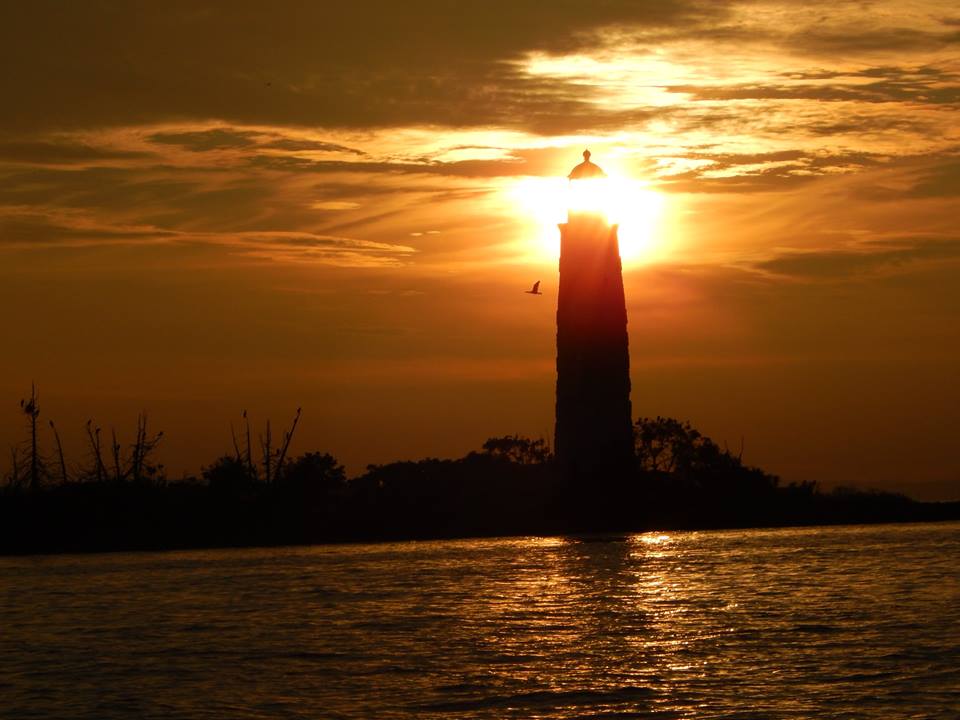 Wrapped
Protect & Preserve
Sealed up to prevent further decay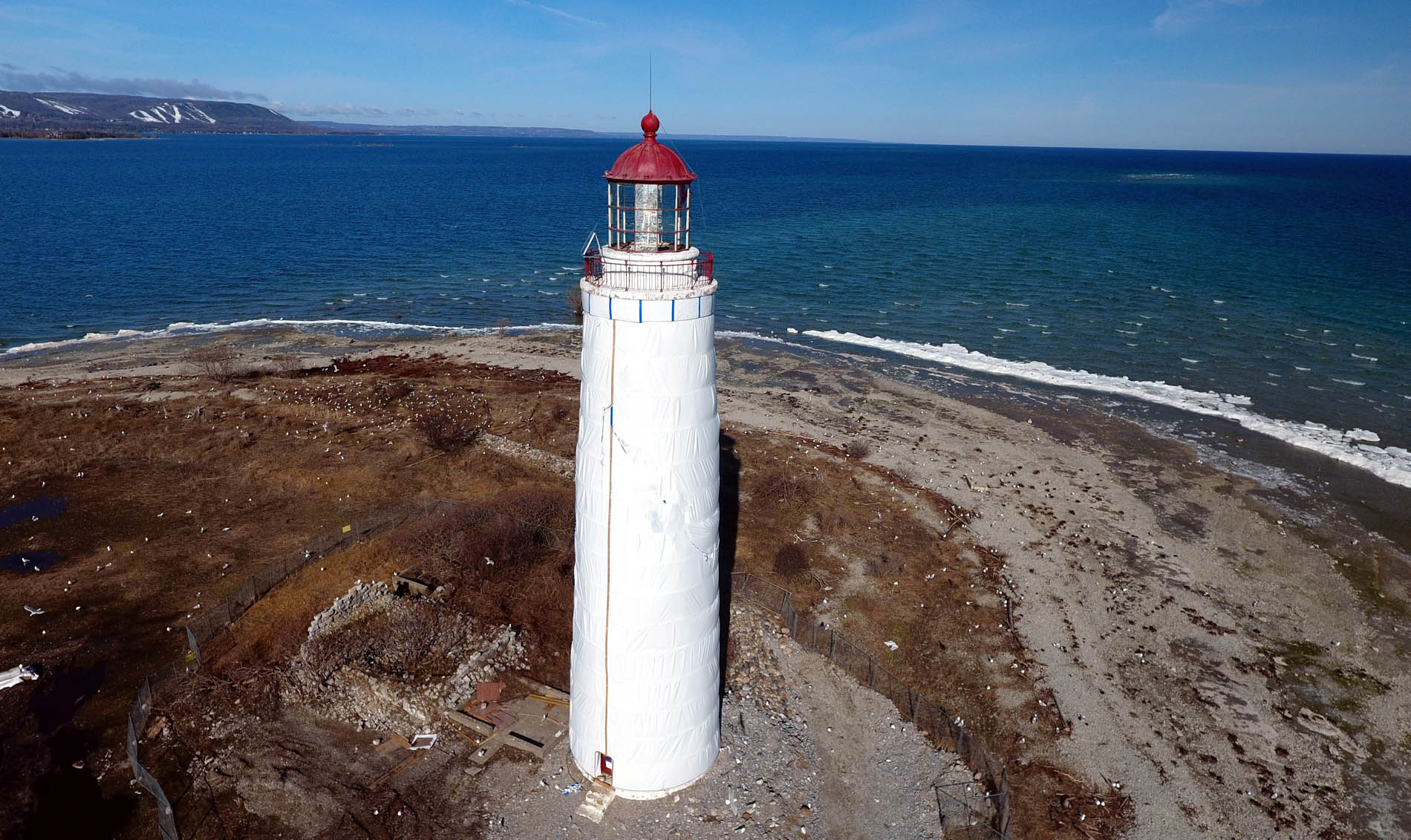 ENVIRONMENT
SCENIC LOCATION
The emerald Turquoise waters of Georgian Bay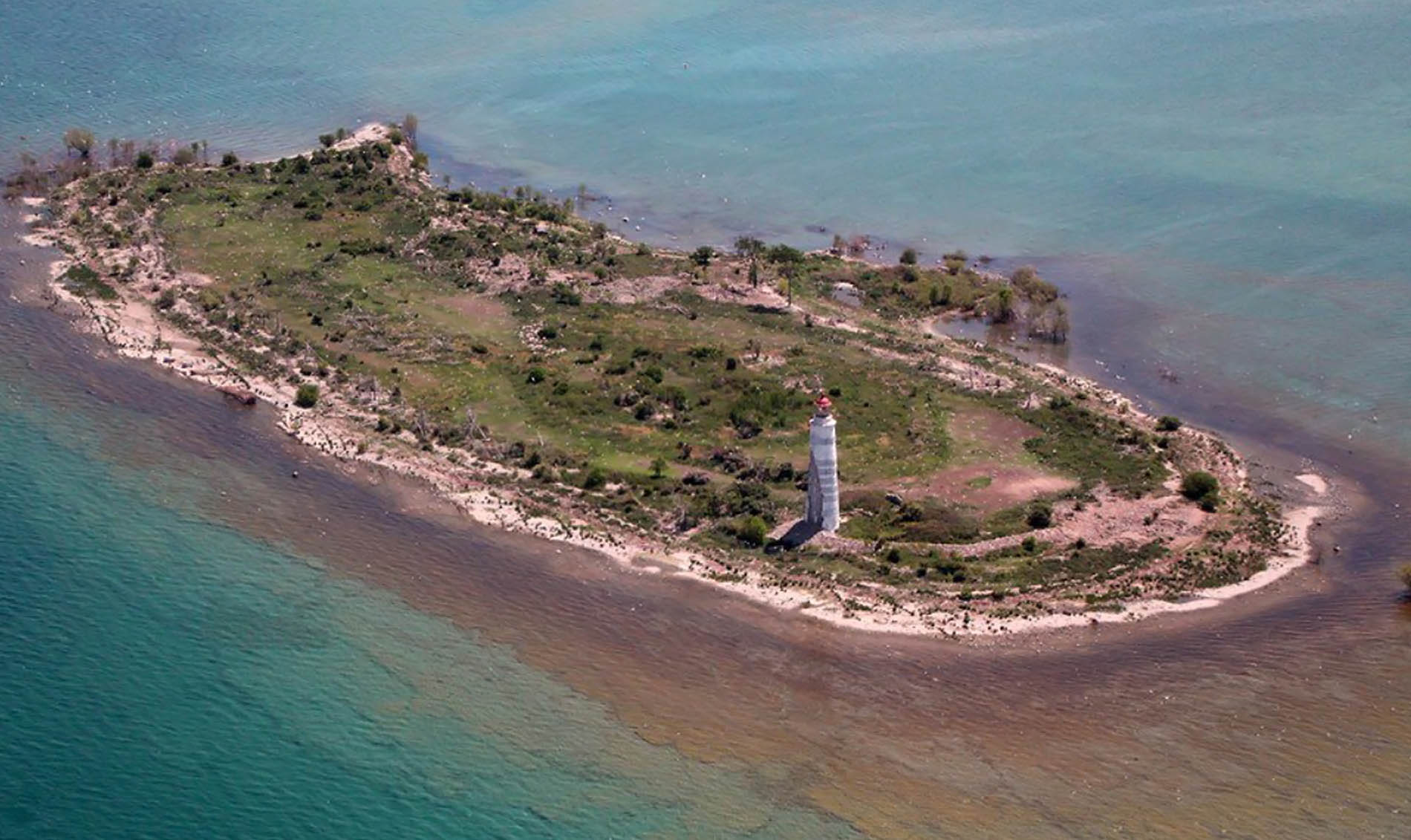 One of six "Imperial Towers" built on the Great Lakes, the Nottawasaga Lighthouse has been an iconic local landmark for over 150 years.  With its impressive masonry construction and intricate finishing details of European origin, the Nottawasaga Lighthouse has provided safe passage for both commercial ships and recreational boaters around the treacherous shoals and shallow waters that guard the entrance to Collingwood's harbour.
Having saved countless lives through its 159 year history, the life of the Nottawasaga Lighthouse is now endangered itself and needs saving. Lighthouses such as this have played an integral role in Canada's maritime history and in particular, Collingwood's Shipbuilding past. Although no longer a "lighted" navigational aid, the mere physical presence of this towering structure serves to assist recreational boaters in visually navigating their way safety back to the safe harbour in Collingwood both in good weather and in bad.
The Nottawasaga Lighthouse Preservation Society (NLPS) is a registered charity dedicated to the restoration and protection of the Nottawasaga Island Lighthouse. Preserving its history for present and future generations of Canadians to enjoy while ensuring its role as a navigational landmark continues.
We need your help to preserve this unique part of Canada's Great Lakes history. Joining the  NLPS as a MEMBER is FREE, make a DONATION or VOLUNTEER to help in whatever capacity you feel comfortable with.
To learn more about the past history and current status of this unique piece of Canada's maritime heritage, please visit the HISTORY page of this website or CONTACT US for further information as to how you can help us in our Mission to save this unique and iconic structure.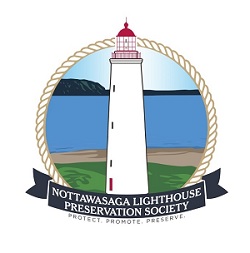 For Immediate Release
The Saugeen Ojibway Nation (SON), and the Nottawasaga Lighthouse Preservation Society (NLPS) are pleased to announce an Agreement to work together to preserve the natural and historical legacy of Nottawasaga Island. Nottawasaga Island is an important bird rookery for common and rare bird species, and is also the site for one of the oldest and historically significant lighthouses in Ontario.
June 11, 2021 Saugeen Peninsula
Saugeen Ojibway Nation, Nottawasaga Lighthouse Preservation Society
Nottawasaga Island is a 5.26 hectare island located only 5 kilometers Northwest of Collingwood. Although the island is small, it is very important from a historical, cultural, and ecological perspective. The island is currently owned by the Department of Fisheries and Oceans (DFO). The Saugeen Ojibway Nation (SON) and the Nottawasaga Lighthouse Preservation Society (NLPS) wish to see the island returned to the SON, as the lighthouse is no longer in use. Both parties have worked hard together over the last two years to create an Agreement on how to protect the ecology and history of the island. We look forward to our collaborative partnership and to the restoration of the lighthouse and island to its former glory.
The Light Remains
There are some who bring a light so great to the world, that even after they have gone, the light remains.
NLPS is mourning the loss of Deborah Redman.
Deborah was truly a wonderful dedicated volunteer for the NLPS. It is a very sad day to hear of her passing.
Our thoughts go out to her family and friends in this time of sorrow.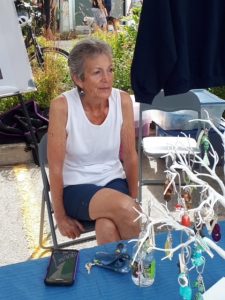 Larry Wright - Guest Speaker at AGM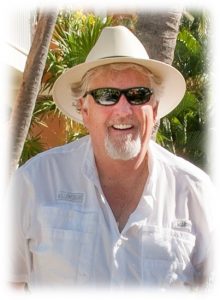 Larry Wright is a national Gold Medal award-winning photographer and pharologist who has been involved with lighthouse preservation since 1991. He was on the board of directors for the Great Lakes Lighthouse Keepers Association for over twenty years based in Mackinac, Michigan.
Larry has a ship master's license to pilot/captain, as well as his engineering papers for passenger vessels in Muskoka.
Larry co-wrote 4 books about lighthouses on the Great Lakes along with his wife Pat, of 48 years. The Great Lakes Lighthouse Encyclopedia, Bonfires and Beacons and Bright Lights, Dark Nights and Lightships on the Great Lakes. Selling nearly 50,000 hard copies and 10,000 soft cover.
He has been a paid consultant on a number of historical books and novels containing lighthouses.
His stories have been published in a number of US publications including Inland Sea, the Beacon, Lighthouse Digest etc. He has been involved with a number of Universities and has lectured in Michigan, Ohio, New York and of course Ontario.
Hs current project is a data base for every lighthouse on the Great Lakes and the upper St. Lawrence above the sweetwater line. The data base at this point contains about 6200 pages of material.
You can contact Larry here: ontariolighthouse@bell.net
Thank you for being our Guest Speaker at our AGM. Your talk was so interesting and informative!
Limited Edition Print
by Andrew Peycha $125.00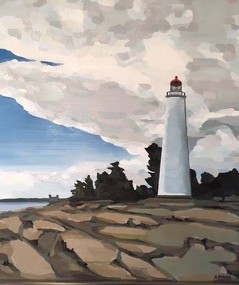 Only 200 signed and numbered prints
GET YOURS BEFORE THEY ARE ALL GONE!
Also available at:
The Georgian Frame Gallery 172 Hurontario St. Collingwood
Matilda Swanson Gallery Thornbury
John & Carol Sanders commissioned Andrew Peycha many years ago and he agreed to have his work copied. We are very grateful to him for supporting the restoration of the lighthouse.
Lighthouse Presentation by Joan Walters
Michael Storey Hawkwood Films